The popular History Channel reality TV show American Pickers is coming to South Carolina and the Lowcountry this upcoming March and they want to know if you have some old junk for them to look at.
In a call ahead, the producer of the show, Sarah Perkins, said the show is looking for leads throughout the state, specifically interesting characters with interesting items and lots of them.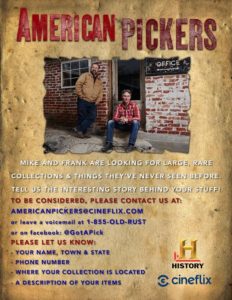 The popular show follows antique and collectible pickers Mike Wolfe and Frank Fritz, who travel around the United States to buy or "pick" various items for resale, for clients, or for their personal collections.
"The way we find people and collections for our show is through spreading the word far and wide so that people know we're coming to town," Sarah said. "So, we would love to spread the word about our upcoming trip in your area."
"Please keep in mind, we are looking for different, unusual, and unique items too – something we've never seen before and with an interesting story."
The show is looking for old private collections only and reminds everyone that Mike and Frank only pick private collections so NO stores, malls, flea markets, museums, auctions, businesses or anything open to the public.
If you are interested in being on American Pickers and having your old relics "picked" by Mike and Frank, you can contact the show at 1-855-OLD-RUST.
All content in blog posting ©BCBCC and cannot be reproduced or rewritten without permission from BCBCC