Over the next several months, Beaufort will be able to enjoy a mystery dinner theater. Popular all across America, these types of immersive dinner events have been enjoyed by many, but this is the first one here in town.
A mystery dinner is a popular type of dinner theater in which the play is a murder mystery, and the diners are invited to solve the mystery as they eat and watch the play. In many mystery dinners, there is no separate stage from the eating area; instead, the actors are mixed in with the diners — and often improvise dialog with diners — creating a more immersive atmosphere.
Fully immersive mystery dinners are a type of murder mystery game in which audience members themselves play character roles and are often suspects.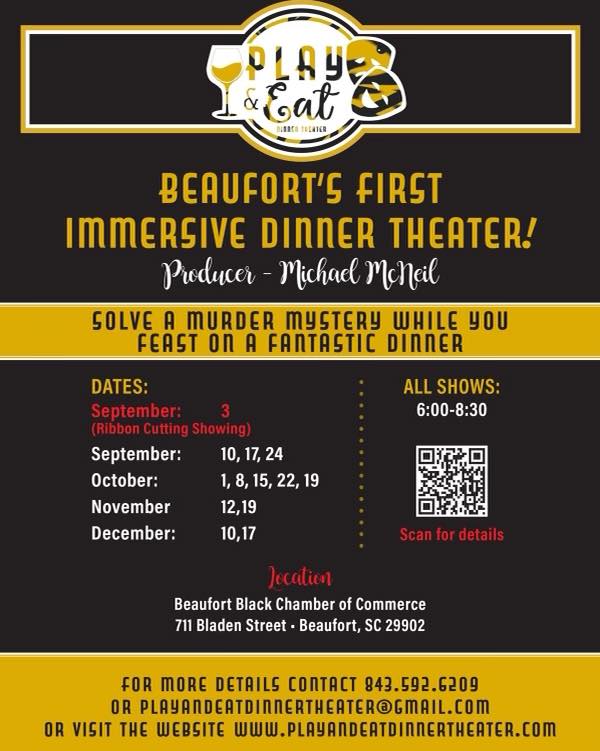 Created by Beaufort native, Michael McNeil, his Play and Eat Dinner Theater is being hosted here at the Beaufort County Black Chamber of Commerce on downtown's Bladen Street, and attendees will get to enjoy solving a murder mystery while feasting on a fantastic dinner prepared by Sandies at the Gullah Jazz Cafe. The one who solves it at the end wins a prize.
Michael McNeil is no stranger to this.
Raised in Beaufort, SC and a graduate of Battery Creek High School and the Academy of Career Excellence, in 2017 he began pursuing an acting career in Atlanta and New York.
His most notable film roles include Dungeons and Kraken, Separated At Birth and The Quonset as well as starring in High Maintenance which he wrote and produced.
Michael also produced a virtual improv show called SAY YES Improv and performed in the New York Off-Broadway musical Life Insurance and also starred in leading roles for the Savannah, GA production of the short film Stolen Promise and two immersive theater projects Savannah Underground, and Dinner Detective.
Taking the success of the shows in Savannah, and seeing a need for more entertainment in Beaufort, has sparked the creation of the Play And Eat Dinner Theater.
"I hope to see lots of folks enjoying a good laugh and a good meal at our performances this fall," Michael said.
The dinner theater event will be held here at the Beaufort County Black Chamber of Commerce Multiplex Center at 711 Bladen Street.
Show dates are September 3rd (accompanied by a ribbon cutting), 10th, 17th and 24th. October 1st, 8th, 15th, 19th and 22nd. November 12th and 19th, as well as December 10th and 17th.
Make sure to see one or event several of the shows, and add it to your must-do list of holiday events this fall.
Tickets to the event are available at https://playandeatdinnertheater.com