OktoPRfest in Port Royal
Looking to get out and party Port Royal style? The Old Village Association of Port Royal is hosting the annual OktoPRrfest celebration on Paris Avenue once again this fall.
The free event, fast becoming a local favorite, will be returning to Paris Avenue on Saturday, September 24th from 11am to 5pm.
Dubbed, "OktoPRfest – Party Port Royal Style," the event features local chefs, restaurants and food trucks serving up German-inspired dishes that will be properly washed down, Oktoberfest-style, with a variety of craft, imported and domestic beers.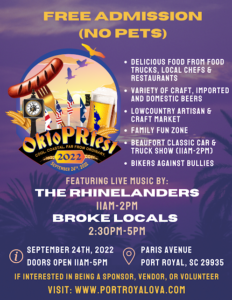 The event also hosts live music, and this year will include The Rhinelanders, who specialize in fun, German-inspired music, including beer drinking songs, the Alp horn and ballroom dance tunes. Also scheduled to take the stage is the popular local Beaufort band, Broke Locals.
Other entertainment includes a Classic Car Show with the Beaufort Classic Car & Truck Club, a family-oriented Kids Zone for the little ones and talks with the local Bikers Against Bullies group.
As always, there will be an artisan/craft fair at the event, because Port Royal loves its local Lowcountry artisans. (and so do we!)
For more information on the upcoming OktoPRfest celebration in Port Royal, or to get involved as a vendor or volunteer…visit www.portroyalova.com.