Take part in the 13th annual Salute from the Shore on Monday, July 4th and participate in the opportunity to salute our armed forces during a military flyover along the entire South Carolina shore in a synchronized salute that will be shared online across the nation and around the world.
A flyover of vintage planes to salute the armed forces will be over Hunting Island and Fripp Island Beaches sometime around 1:30pm on Monday afternoon.
Head to the South Carolina coast at 1 PM on the 4th of July.
Go "BIG!" Get a huge flag or get creative. Then GET TO THE BEACH on the 4th of July in all your red, white and blue!
Record your Salute on camera and share it with the world – on Facebook, YouTube, Twitter, Instagram, a blog, or any other place you want.
Photos of the aircraft are great. Photos of people Saluting aircraft are better.
Tag your Salute images and videos with #SalutefromtheShore
Make it personal. Whether you love someone serving overseas or remember a fallen hero, share your tribute. You can do that on this page: http://salutefromtheshore.org/share-your-salute.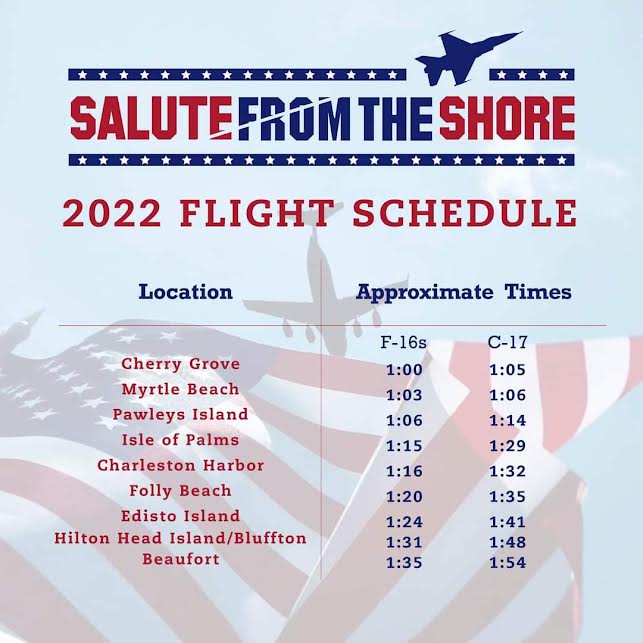 This year's Salute From the Shore will begin at the North Carolina/South Carolina border, 40 miles north of Myrtle Beach, at approximately 1pm and will make its way down the coastline, where it'll end in Bluffton.
The flyover will begin with two F-16s from Shaw Air Force Base and a C-17 from Charleston Air Force Base. Following the military planes will be a civilian-owned and flown vintage aircraft, a P51. This plane flies slower than the military planes and will extend the Salute through the afternoon as it makes it's way down the South Carolina coastline.
Beachgoers are encouraged to stick around after the initial military planes flyover to be able to see the vintage aircraft. As always, please be mindful these are older planes with volunteer pilots, so weather conditions and mechanical issues play a role in how many ultimately fly.
It's always best to arrive early and be patient.
On July 4th, 2010, the first "Salute from the Shore" was witnessed by hundreds of thousands of people. The inaugural flyover – assisted by a C-17 from Charleston AFB – resulted in an overwhelming outpouring of personal messages, stories and support from those who participated. Touched by the emotional reaction to the event, the organization resolved to grow the event into what it is today.
For more info, visit http://salutefromtheshore.org/