Every December, Wreaths Across America remembers and honors our veterans at the Beaufort National Cemetery through the laying of remembrance wreaths on the graves of our country's fallen heroes and through the act of saying the name of each and every veteran aloud.
Each year, the beautiful afternoon-long remembrance ceremony is attended by hundreds of volunteers and is a major event here in Beaufort.
Wreaths Across America Beaufort is hoping that you will help and sponsor a wreath this year, as the need for sponsors is stronger than in years past.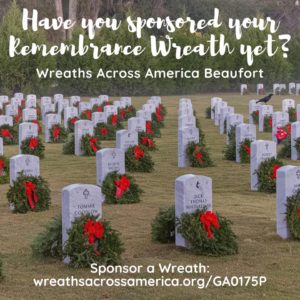 David Edwards, Wreaths Across America Beaufort coordinator, says that even if you can't attend the Wreaths Across America Day ceremony in December, you can still honor our veterans by sponsoring wreaths. "Thank you for your continued support each year," he said on Facebook.
Individuals or groups that wish to purchase one or more wreaths for the Wreaths Across America Beaufort event can do so by visiting this link. For updates on this year's ceremony in Beaufort please visit Wreaths Across America Beaufort on Facebook, here.
Each wreath is hand-crafted of all-American balsam and hand-tied with a red velvet bow in Columbia Falls, Maine. It will then be sent to one of the participating locations where a volunteer will place it on the marker of a fallen hero. That volunteer will then "say their name" to ensure that the legacy of duty, service and sacrifice of that veteran is never forgotten.
Volunteering to lay wreaths or sponsoring a wreath means you'll honor an American hero this year on Wreaths Across America Day.
That's really special.
The mission of the National Wreaths Across America program is to remember our fallen heroes, honor them, and teach others of the sacrifices they have made for our Country. Started at Arlington National Cemetery in 1992, each year during the holiday season, wreaths are placed on veterans' grave sites at more than 1,400 locations across the United States, at sea and around the world.
The Beaufort National Cemetery joined the national Wreaths Across America celebration about 17 years ago and has been participating in the Wreaths Across America ceremony ever since.
Wreaths Across America is a nonprofit organization founded to continue and expand the annual wreath laying ceremony at Arlington National Cemetery begun by Maine businessman, Morrill Worcester, in 1992.